The 2021 Jon Renau California Blonde collection expansion features sun-kissed shades of blonde in 24 comfortable wig styles and sizes, ranging in short to long lengths. Finding that perfect Jon Renau blonde wig that works with your personal style is easier than ever.
We put this blog together as an easy-to-read resource for ALL things California Blonde.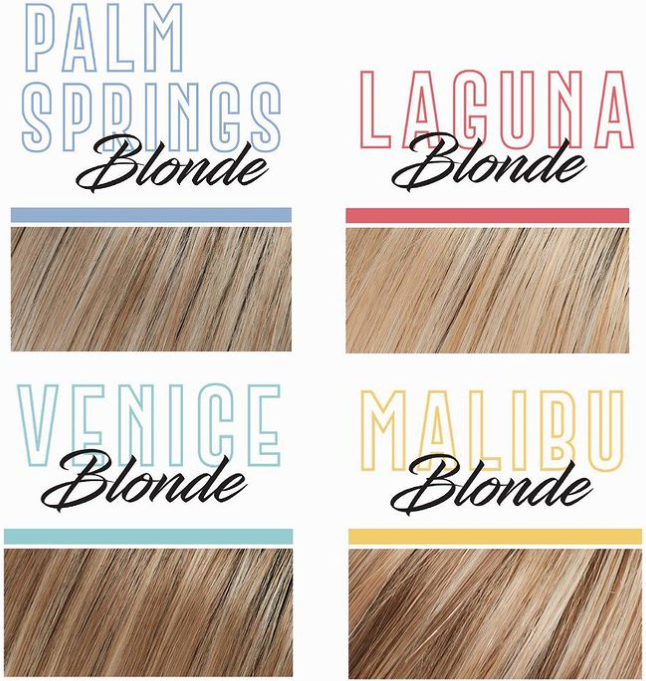 ABOUT THE CALIFORNIA BLONDE COLORS:
Malibu Blonde – color 12FS12
Softer shaded root of color 12 follows through to the ends, giving a natural blonde highlighted look with golden blonde and platinum throughout.
Venice Blonde – color 22F16S8
Shaded root of color 8 with sandy blonde and beige blonde tones.
Laguna Blonde – color FS24/102S12
Lightest blonde of the four with a softer shaded root of color 12 that transitions into a blend of honey and platinum tones.
Palm Springs Blonde – color FS17/101S18
Coolest ashy tone of the four with a lighter root of color 18 transitions into an iced platinum and pale blonde blend.
Each of the four Jon Renau California Blonde colors are now available in the following styles:
5357 Allure-Petite
5410 Amanda
5870 Angelique
5384 Anne
5123 Blair
5363 Bree
5348 Gaby
5361 Jazz
5362 Jazz-Petite
5127 Jessica
5154 Kris
5360 Lily
5358 Lily-Petite
5370 Mono Allure
5131 Mono Simplicity
5383 Naomi
5374 Natalie
5149 Natalie-Petite
5364 Peaches
5373 Posh
5973 Robin-Petite
5997 Sandra
5129 Sheena
5386 Vanessa
VIEW THESE BEAUTIFUL CALIFORNIA BLONDE EXPANSION STYLES HERE: